Charts
Dorothy Dugan (Haerle) B: 28 MAY 1896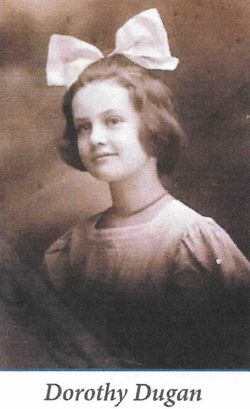 Dorothy was born on
28 MAY 1896
in
Indiana
.
She is the daughter of
Charles Ambrose Dugan
(1861/1862 - 1935)
and
Fannie B. Dorwin (Dugan)
(7 NOV 1862 - 19 NOV 1959)
.
Dorothy was married to
Pierre Frist Goodrich
on
17 JUL 1920
in
Decatur, Adams, Indiana
.
Pierre was born on
10 SEP 1894
.
He is the son of
Gov. James Putnam Goodrich
(18 FEB 1864 - 15 AUG 1940)
and
Cora I. Frist (Goodrich)
(26 JUN 1861 - 31 OCT 1941)
.
View Family Chart
Dorothy was married to
Louis Hollweg Haerle
on
25 NOV 1933
in
Marion Co, Indiana
.
Louis was born on
13 NOV 1896
in
Indianapolis. Indiana
and died on
17 NOV 1972
(age: 76) in
La Jolla, California
.
He was the son of
George C Haerle
.
View Family Chart
-
-
-
Notes for Dorothy Dugan (Haerle)
Notes for Pierre Frist Goodrich
'Indianapolis attorney and patron of the arts'. Created the Liberty Fund.
His father was the Governer of Indiana and was nominated to be a Presidential candidate in 1920.



Dorothy:
Margaret Morton Kimball (niece of Dorothy Dugan), interview, October 25, 1992. According to Rosanna Amos, She Dorothy always wanted to be the social butterfly, and even though Pierre Goodrich came from a very well known family, that was never his interest. I don t think he was ever interested in socializing at all. Being known was not important to him (interview, December 10, 1991).

Margaret Kimball, interview, October 25, 1992. According to Mrs. Kimball, Dorothy participated in the Indianapolis Women s Club (a literary group), the Junior League, the Indiana Vassar Club, and the Indianapolis Dramatics Club (a theater group). She even wrote a cookbook. Dorothy s involvement in the Indianapolis Literary Club was so well remembered that the club honored her with the dedication of a book in 1987. That was shortly after Dorothy s death (she died on February 14, 1987) and twenty years after she had resigned from the club to move to California.


: Marriage License
Name: Pierre Frist Goodrich
Gender: Male
Race: White
Age: 26
Event Type: Marriage Registration (Marriage)
Birth Date: 10 Sep 1894
Birth Place: Winchester, Indiana
Marriage Date: 16 Jul 1920
Marriage Place: Indiana, United States
Residence Place: Winchester, Indiana
Father: James P Goodrich
Mother: Cora Frist
Spouse: Dorothy Dugan
Page: 154

Pierre:
Pierre Frist Goodrich (1894-1973), A successful lawyer who, in 1960, established the Liberty Fund, for encouraging the study of his concept of an ideal society: a community composed of free and responsible persons. Goodrich s concept was based on his belief that the ideal of such a society was threatened by the use of governmental powers which thwarted liberty and corrupted both the wielder and the object of power. In an effort to enhance the mission of the Liberty Fund, he required all fund trustees to read and discuss classic texts at board meetings.


Notable American Philanthropists: A Biographical Encyclopedia - January 2000
:
Notes for Louis Hollweg Haerle
Louis: Haerle Family
Hollweg Family: Louis Hollweg was born in Westphalia, Prussia and emigrated to the U.S. in 1860. The 1896 City Directory lists Louis as a salesman for Hollweg & Reese, a wholesale glassware and crockery firm. His son, Ferdinand (Ferd) Louis Hollweg, on his 1918 Draft Registration Card and his Passport Application, lists his birthday as September 7, 1876. The 1880 census shows that Ferdinand was four years old and his sister Norma was five. The 1893 City Directory shows the family living at 505 North Meridian Street.

In the 1900 Census, Ferd was still living at home with his father and his step-mother, Louise. His 1918 Draft Registration Card shows Ferd living at 4171 Washington Blvd and he was president of the Mutual China Company at 130 S. Meridian. His wife was Elba Matthews Hollweg.

Haerle Family: Rudolf Haerle was the son of Ferdinand Hollweg s sister, Norma H.

Hollweg Haerle. Norma married George C. Haerle in 1896. According to city directories George s father, William Haerle, operated a Fancy Dry Goods Store and then a Ladies Furnishings Store at 4 West Washington Street and lived at 854 N. Meridian Street and later at 1804 N. Meridian where the interior picture was taken. Norma and George had three children, Louis (born 1897), Elizabeth (born 1899), and Rudolf (born 1902).

According to censuses, George Hearle was a dry goods merchant in 1900, a woman s apparel merchant in 1910 and an accountant for a steel company in 1930. He died in 1932.

Louis Haerle, the eldest child of George and Norma also worked in the dry goods business; in the 1920 Census he was listed as a dry goods salesman. In 1930 he was vice president of Hibben Hollweg & Co. and on his 1942 draft card he was listed as a traveling salesman for Hibben Hollweg & Co. and was also farming and living in Zionsville. Louis Haerle died in 1972.

Elizabeth Haerle, was the middle Haerle child. In the 1940 Census she was living with her mother Norma and renting a home at 3733 N. Meridian with a lodger present. Elizabeth was a friend of Hildegarde Flanner, sister of the author Janet Flanner, known as Genet .

Elizabeth Haerle died in 1957 and Norma Haerle in 1963.

Rudolf Haerle the youngest Haerle child, indicated on his 1924 passport application that he was in the mercantile business, and in the 1930 city directory he was listed as secretary of Hibben Hollweg Co. By 1934 he was an agent for Connecticut Mutual Life insurance Co. City directories for 1936 and 1943 show him as a buyer for L. S. Ayres and Co.

Rudolf Haerle died in 1992
Louis: WWI Draft Registration
WWI Draft Registration
Louis: WWII Draft Registration
WWII Draft Registration

Last change (on this page): 20 APR 2020