Charts
Edna J Sharp (Hobbs) 26 JAN 1926 - 23 DEC 2011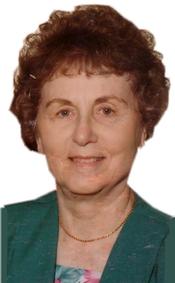 Edna was born on
26 JAN 1926
in
Elmwood Place, Hamilton County, Ohio
and died on
23 DEC 2011
(age: 85) in
Mason, Ohio
and was buried in
Oak Hill Cemetary, Glendale, Ohio
.
She was the daughter of
Hugh R Sharp
(B: 1901)
and
Myrtle Roberts (Sharp)
(B: 1898)
.
Edna was married to
Carl Wilbur Hobbs
.
Carl was born on
24 JAN 1923
in
Portsmouth, Scioto, Ohio
and died on
18 DEC 1992
(age: 69) in
Cincinnati, Hamilton, Ohio
and was buried in
Oak Hill Cemetary, Glendale, Ohio
.
He was the son of
Jacob Arthur Hobbs
(10 DEC 1892 - 5 NOV 1971)
and
Hattie Ann Tabor (Hobbs)
(16 FEB 1898 - 11 JUL 1988)
.
View Family Chart
-
-
-
Notes for Edna J Sharp (Hobbs)
Notes for Carl Wilbur Hobbs
Edna: Obituary
Hobbs, Edna J. (nee Sharpe) Beloved wife of the late Carl W. Hobbs. Loving mother of Diana (Lloyd) Hunt and Carol (Rich) Hart. Grandmother of David and Stephen Hunt; Jacob and James Hart. Also survived by 11 great grandchildren. Sister of Jean Sharpe Dudley.

Preceded in death by great granddaughter Lauren Jane Hunt. Passed away December 23rd. age 85.

Visitation will be held Wednesday December 28th at Carthage Church of the Nazarene 33 W 65th St. Cincinnati, OH 45216 from 5 PM until time of service at 7 PM. Graveside services will be Thursday at Oak Hill Cemetery meet inside the gate at 12:30 PM. In lieu of flowers, donations may be made to Carthage Church of the Nazarene.


Carl: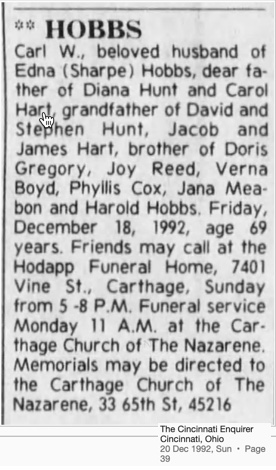 Carl: Social Security Death Index Record
Name: Carl W. Hobbs
SSN: 294-14-6956
Last Residence: 45216 Cincinnati, Hamilton, Ohio, United States of America
Born: 24 Jun 1923
Died: 18 Dec 1992
State (Year) SSN issued: Ohio (Before 1951 )


Last change (on this page): 22 NOV 2020