Charts
May Valborg Christofersen (Kimball) 16 MAY 1888 - 17 OCT 1933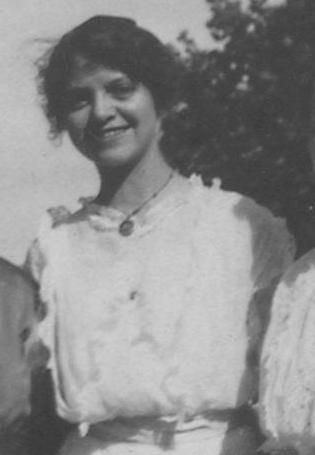 May was born on
16 MAY 1888
in
Chicago, Ill.
and died on
17 OCT 1933
(age: 45) in
Elgin, Illinois
and was buried in
Acacia Pk Cmty, Elgin, Ill
.
She was the daughter of
Christian Christofersen
(11 MAR 1851 - 1901)
and
Josephine Helene Maria Larsen (Christofersen)
(14 JAN 1858 - SEP 1940)
.
May was married to
George Walter Kimball
on
12 AUG 1915
in
Chicago, Ill.
.
George was born on
6 DEC 1888
in
Hingham, Mass.
and died on
29 SEP 1941
(age: 52) in
Flossmoor, Ill
.
He was the son of
George Edward Kimball
(22 JUN 1853 - 1 DEC 1941)
and
Alice Tower Howland (Kimball)
(30 JUN 1857 - 23 NOV 1932)
.
View Family Chart
-
-
-
Notes for May Valborg Christofersen (Kimball)
She said her sisters would speak Norwegian on the phone when they
didn't want the children to know what they were talking about.
Julia, Valdine and May all quit school at 8th grade in order to support
their brother Arthur through college (Oberlin)


..
May was never really well - she was hospitalized after each child was born
with Post Partum Depression. Then had a 'Nervous Breakdown' which eventually
caused her to die of Pneumonia in 1933. (Comments by Alice Jo Kimball)



Notes for George Walter Kimball
Played Saxophone in quartet in New England. Choir Director for 30 years.
Went to Colby Jr. College, then Amherst for a year. Then went to Portland,
Oregon and worked for Studebaker selling cars. Came back to Chicago
to go to Moody Bible Inst. and Northwestern Theo. Sem.


His first parish was at Cornell, Ill. where Paul KIMBALL was born.
Then he went to Lincoln where they were hosted by the 'Beach' family.



May: 1910 Census CHicago, Ill
Name: Josephine H Christofersen
Age in 1910: 53
Birth Year: abt 1857
Birthplace: Norway
Home in 1910: 1432 North Artesian Av
Gender: Female
Immigration Year: 1892
Marital status: Widowed
Father's Birthplace: Norway
Mother's Birthplace: Norway
Native Tongue: English
Home Owned or Rented: Own
Home Free or Mortgaged: Mortgaged
Number of Children Born: 12
Number of Children Living: 5
Household Members:
Name Age
Josephine H Christofersen: 53
Julie V Christofersen: 32
Arthur F Christofersen: 23
May V Christofersen: 21
Ruth E Christofersen: 13

George: Census: 1920 Lincoln, Illinois - 319 Eight Street

name relation age Occ.
George W. Kimball : head 34 minister P. church
May B. Kimball : wife 31
Earle P. Kimball : son 3 1/2
May: Obituary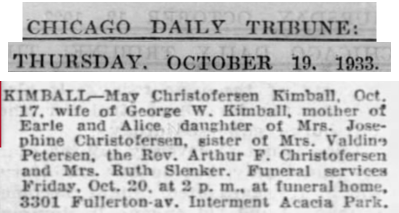 Obituary
George: Census: 7 1930 Chicago, Cook Co., Illinois 4451 Wrightwood Avenue

name relation age born in father born mother born Occ.
George W. Kimball : head 44 Mass Mass Mass Secy. Businessman's Organization
May Kimball : Wihe 41 Ill Norway Norway none
Earl Kimball : son 13 Ill Mass Ill none
Alice Kimball : dau 9 Ill Mass Ill none
George: Census: 1940 Census - Rich, Cook Co., Ill

Item Value
Name : George W Kimball
Age : 54
Gender : Male
Race : White
Birthplace : Mississippi
Marital status : Married
Relation to Head of House : Head
Street : Douglass Avenue
House Number : None
Inferred Residence in 1935 : Rich, Cook, Illinois
Residence in 1935 : Same House
Occupation : Secretary
House Owned or Rented : Rented
Highest Grade Completed : College, 2nd year
Household Members :
Name : Age
George W Kimball : 54
Marjorie Kimball : 46
Alice Josephine Kimball : 17

Last change (on this page): 1 MAR 2020