Sally Johnston Kimball (Hart)'s Family
Sally Johnston Kimball (Hart) B: 10 JUN 1947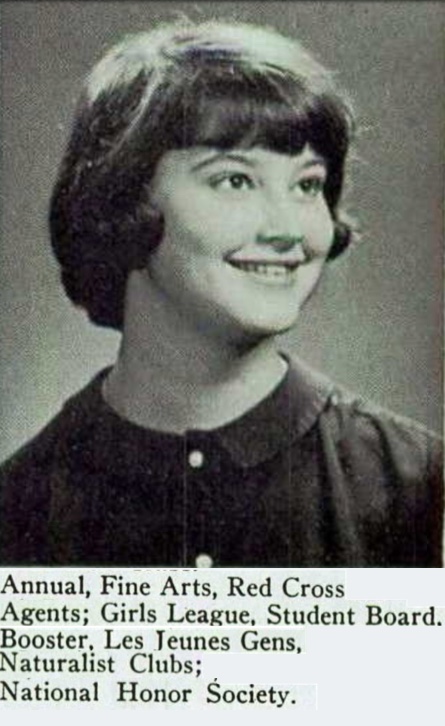 Sally was born on
10 JUN 1947
in
Lincoln, Ill
.
She is the daughter of
Paul Earle Kimball
(19 NOV 1916 - 22 JUL 1989)
and
Dorothy Adams Johnston (Kimball)
(5 JUN 1911 - 21 AUG 1955)
.
Sally was married to
Albert Douglass Hart, Jr
on
9 NOV 1968
in
Indianapolis, Ind
.
Albert Jr was born on
16 APR 1947
in
Chicago, Ill
.
He is the son of
Albert Douglass Hart, Sr
(2 JUN 1916 - 29 JUL 2003)
and
Ruth Amelia Bibbins (Hart)
(8 DEC 1917 - 4 FEB 2006)
.
View Family Chart
-
-
-
Notes for Sally Johnston Kimball (Hart)
Graduated from Methodist School of Nursing - Indianapolis, In - 1968.
Sally was the Office Nurse for Dr. William Moon from 1978 to 1990.
Worked for Dr. Kenneth Katz since 1992 - a pediatrician in Englewood, Co.


Sally received a BA from Univ. of Colorado Denver in 1998 as an English Major.
And a Master's Degree in May English in 2003.


In 2004, Sally started teaching Film Studies at Boulder Preparatory High School in Boulder, Colorado.

: Wedding Announcment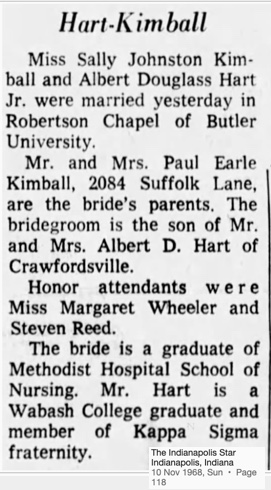 Wedding Announcment
Notes for Albert Douglass Hart, Jr
graduated from Wabash College - BA Math 1968, Indiana University MA Math 1971.
On the winning (3 man) team of the first two sessions of the 'Indiana College Mathematics Competition' in 1966 and 1967.



Albert Jr: Al Barb abd Rich
Al Barb abd Rich
Albert Jr: Barb and Al
Barb and Al
Albert Jr: ICMC Winning Teams
Exam #1 - 1966 The first 'friendly competition' was held at Wabash College, located in Crawfordsville, a bit northwest of Indianapolis.

Eight schools participated in the competition that year. It was won by the team from Wabash College consisting of James Clynch, Albert Hart Jr., and Larry Haugh.

Exam #2 - 1967 This competition was held at Marian College in Indianapolis. The winning team, consisting of David Hafling, Albert Hart Jr., and Robert Spear was again from Wabash College, A sample question from 1968: Let us assume that a given pair of people either know each other or are strangers. If six people enter a room, show that there must be at least three people who know each other pairwise or there must be at least three people who are pairwise strangers.

(from 'A Friendly Mathematics Competition', Rick Gillman Editor. 2003)
Albert Jr: Bluffs Book
Bluffs Book
Albert Jr: Heartland Poker Tour Tournament

Albert made the final table of a Heartland Poker Tour Tournament which was televised.
Here is the entire session on You Tube:


First Hour of telecast
Second Hour of telecast
- Draken was born on 18 APR 2008 in Keosauqua, IA
- Anne was born on 19 MAY 1953 in Cambridge, Mass.

Last change (on this page): 12 JAN 2020