Charts
Dorothy Adams Johnston (Kimball) 5 JUN 1911 - 21 AUG 1955
Dorothy was born on
5 JUN 1911
in
Indianapolis, Ind
and died on
21 AUG 1955
(age: 44) in
Indianapolis, Ind.
and was buried in
Crown Hill Cmty
.
She was the daughter of
Dr. Samuel Andrew Johnston, Jr
(18 JUN 1876 - 20 MAY 1921)
and
Stella M Adams (Johnston)
(31 JUL 1879 - 17 JAN 1952)
.
Dorothy was married to
Paul Earle Kimball
on
17 APR 1943
in
Indianapolis, Ind
.
Paul was born on
19 NOV 1916
in
Cornell, Ill.
and died on
22 JUL 1989
(age: 72) in
Indianapolis, Ind
and was buried in
Washington Park
.
He was the son of
George Walter Kimball
(6 DEC 1888 - 29 SEP 1941)
and
May Valborg Christofersen (Kimball)
(16 MAY 1888 - 17 OCT 1933)
.
View Family Chart
-
-
-
Notes for Dorothy Adams Johnston (Kimball)
Lived in Indianapolis most of her life. Graduated from Tudor Hall School in
1929. She was a member of the Indianapolis Junior League, Dramatics Club
and the Second Presbyterian Church.


Lived with he mother, Stella, at 2127 North Delaware Street in Indianaplois in the 1940 Census.



Notes for Paul Earle Kimball
graduated from Univ. of Ill. in 1938 - Delta Upsilon
First appearance in Indianapolis was in 1952 - a sales correspondent for
Mallory's - in 1954 he was a production planner for American Machine
Tool - went to work for Indianapolis Power and light in 1960.


Paul met Dorothy while he was stationed at Fort Knox.
He and his buddies probably drove up from Louisville to Indianapolis
where they met.


Married at 2127 N. Delaware in Indianapolis, then lived at various army bases,
including Ft. Leonard Wood in St. Louis, where his sister Alice Jo Kimball
remembers visiting them. Also, they lived in Greely, Co when their daughter Susan was a baby.


Paul's first full time job was as sports and features editor for the La Grange
Ill. 'Citizen' Was a feature writer for the American Poultry Journal.


Lived at 2127 North Delaware in 1952, 3830 Carrolton in 1956 and
539 N. Central Ct. in 1960.



Dorothy: Newspaper Articles
Dorothy is mentioned, literall, hundreds of times in the Indiapolis Newspapers because of her soclal standing.

Here are a few examples pf travels and meals with other famous people.


Paul: At Dramatic Club
At Dramatic Club
Dorothy: Indianapolis Families Spend Summer Vacation at Rye Beach, N. H.
Mrs. Samuel A. Johnston and her daughter. Miss Dorothy Johnston, have motored east for visits in New York and Newport before they go to Rye Beach. N.H. where they have spent their summers several years.

I Meeting them in Newport and going to New England with them will be Mias Ruth Bybee Milliken, of New York, formerly of Indianapolis.

Another Indianapolis family at Rye Beach this summer, Mr. and Mrs.

Alec Saxton and their daughters, the Misses Sheila. Moyra and Doreen Saxton, will return August 9 after spending the earlier part of the season there.

(Indianapolis Star - Aug 2, 1937)
Paul: WWII Draft Card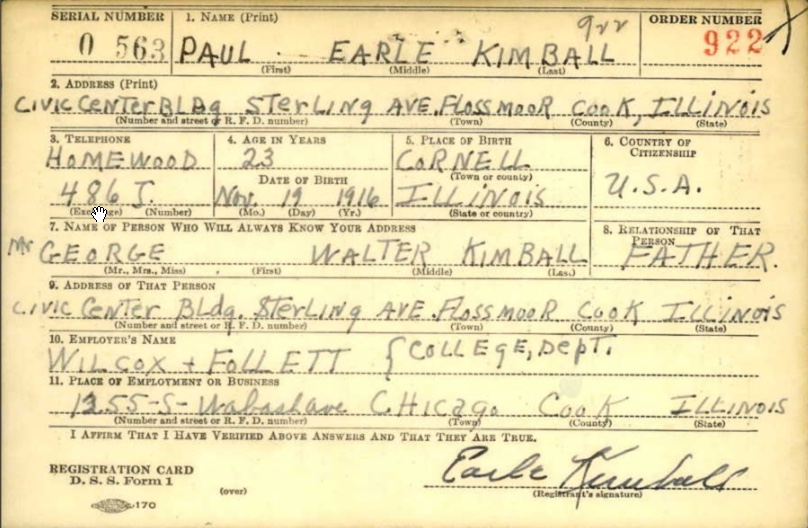 WWII Draft Card
Dorothy: Obituary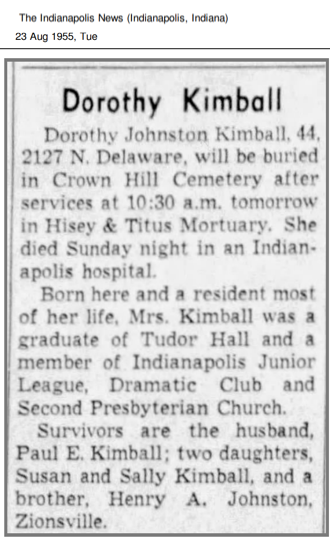 Obituary
Paul: Obituary
Obituary

Last change (on this page): 10 MAY 2020