Charts
Abby Winfield Johnston (Mortensen) B: 16 MAR 1940
Abby was born on
16 MAR 1940
in
Indianapolis, Ind
.
She is the daughter of
Henry Adams Johnston
(26 MAY 1906 - 21 NOV 1979)
and
Jane Johnson Winfield (Johnston)
(7 OCT 1906 - 4 FEB 1980)
.
Abby was married to
Richard David Mortensen
on
12 JUN 1965
in
Indianapolis, Ind.
.
Richard was born on
6 OCT 1939
in
Rockville Center, New York
.
He is the son of
Stuart Mortensen
(B: 15 DEC 1915)
and
Siona Helene Wark (Mortensen)
(B: 28 JUN 1915)
.
View Family Chart
-
-
-
Notes for Abby Winfield Johnston (Mortensen)
was a cellege teacher and worked for the Michigan State Health Department for 7 or 8 years.
Developed the 'Safe Kids' program to required seat belt restraints for children.



: Wedding Announcement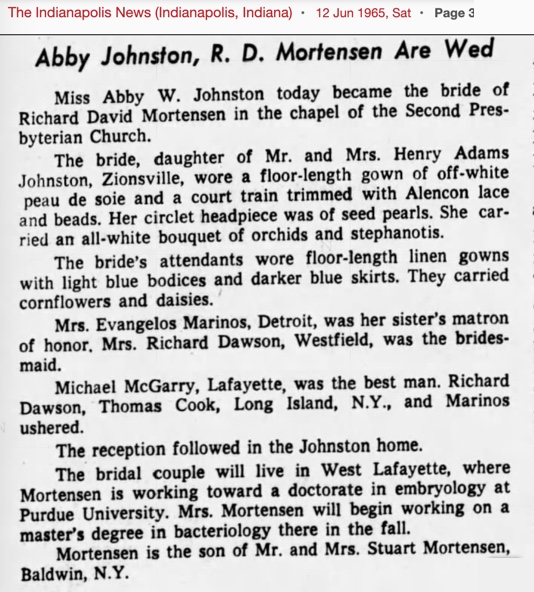 Wedding Announcement
Notes for Richard David Mortensen
Was called Mort when he was young. Undergratuate Degree from Bates College in Maine,
PHD from Purdue University.

Abby:
As coordinator of Michigan SAFE KIDS, Abby Mortensen is responsible for the development of new SAFE KIDS chapters and coalitions around the state; assisting in the implementation of community- based injury prevention programs; statewide dissemination of injury prevention information to children, parents and care givers; organization of child passenger safety training programs for firefighters, educators, law enforcement officers, public health workers, health and emergency care providers; and organizing and staffing car seat check up eventsfor the general public. Car seats, smoke alarms and bike helmets have been distributed to eligible low-income families in partnership with firefighters, law enforcement, and neighborhood associations.


Abby: Birth Certificate
Birth Certificate

Last change (on this page): 11 MAR 2020