Charts
Maurice Jr: email from Nancy Johnston Marinos - Feb 2010
Maurice Johnson Winfield was my grandfather, my mother's father. He died when she was three years old. He was a lawyer in Logansport. He had a flat tire in his car and was thrown out of the car and killed.

After that my grandmother, Abby Rogers Winfield, moved her family, ( Margaret, Maurice but known as Bud, and my mother, Jane), to Lafayette where they lived with her sister and her sister's husband, Bert Stuart. They lived with them for years. My grandmother made baby clothes for LS Ayers to support the family but they lived with 'Great Aunt Mary' until my Mother married my father.


Notes for Abby Lane Rogers (Winfield)
Mrs. Abby Winfield lived in Lafayette, Ind in 1943.


Educated at Miss Bond's School, Baltimore, MD, Abby was a Presbyterian. Maurice graduated from Princton in 1895.



Notes for Maurice Johnson Winfield, Jr
Abby:
Winfield side of the family. From left to right: great Aunt Mary, Great Aunt Muggie( Margaret) my grandmother Abby Lane Rogers (Winfield). All three sisters. The man is Aunt Maggie s husband. (from Nancy Johnston (Marinos) 2020)

Maurice Jr: History of Cass County Indiana

Car Crash
Abby: Remembrance
Mrs. Maurice Winfield - Prominent in women's activities of Logansport a few years ago was Mrs. Maurice Winfield. Mrs. Winfield was a native of Madison, Ind. where she began her education continued in Logansport and at Miss bond's school for girls in Baltimore, Md. she is the daughter of the late Dr. Joseph G. Rogers, former superintendent of Central Hospital, Indianapolis, superintendent of buildings four years at Logansport State Hospital and twenty years medical superintendent of the latter institution. the family came here from Indianapolis and from this city Mrs. Winfield, then Miss Abby Rogers, went to Baltimore.

Upon completion other education Miss Rogers married Maurice J. Winfield, son of the late judge and Mrs. M. m. Winfield of Logansport. her husband was educated at Princeton and during their Logansport residency was engaged in the real estate business in offices of his father. here the couples three children Maurice J., Jan, now Mrs. Henry Johnston of Indianapolis, and Margaret now Mrs. Robert Woodworth of Lafayette were born. Mr. Winfield passed away while the children were young and the family moved to the home of Mrs. Margaret Rogers, Mrs. Winfield's mother. Later when Jane and Maurice attended Purdue university, Mrs. Winfield moved to Lafayette. There she has maintained residence. He son is engaged in the insurance business in Lafayette.

Mrs. Winfield is a sister of Mrs. Charles Campbell, 214 sixteenth street.

Logansport Pharos-Tribune Tuesday, June 14, 1938 Logansport, Indiana
Maurice Jr: THE CLASS OF 1895 - PRINCETON UNIVERSITY - 25th Year Record 1895-1920
Went to Howe Grammar School in Lima, Ind., entering Princeton in 1891 After leaving college he studied law in his father's office at Logansport, Ind., and was admitted to the Indiana bar in 1896.

He continued in the practice of law in Logansport for ten or twelve years thereafter. In 1910 he engaged in the real estate business, specializing in Indiana farm mortgages.

On June 1, 1897 he married Miss Abby R. Rogers. They had three children ; Margaret Rogers Winfield, born August 19, 1904 ; Maurice J. Winfield, Jr., born February 2, 1906 ; Jane Winfield, born October 19, 1907. He died at Logansport May 12, 1911.


Abby: Former Local Resident dead
Mrs. Abby Winfield rites at Lafayette Final rites will be held this afternoon at Lafayette for Mrs. Abby R. Winfield, 76, resident of this city for 227 (sic) years. Her death occurred in Lafayette Wednesday.

Services will be at 1;30 at the Bradshaw funeral home. the rev. J. Daytoa McCormick will officiate and burial will be in Mt. Hope cemetery.

The Winfield family lived in the 500 block of High Street, Mrs. Winfields husband Maurice J. Winfield, died in 1911.

Born Dec. 12, 1875, in Madison she was the daughter of Dr. Joseph and Margaret Watson Rogers. She was a member of the central Presbyterian church.

Survivors are a son and two daughters: Maurice Winfield, West Lafayette; Mrs. Robert c. Woodworth, Lafayette; Mrs. Henry Johnston, Zionsville; a sister Mrs. Charles H. Steuart, Lafayette.

Logansport Press Friday, August 29, 1952 Logansport, Indiana
Maurice Jr:
From the class of 1895, Princeton University, decennial record, 1895-1905 Maruice Johnson Winfield Lawyer, 400 Broadway, Loganport, Ind.

Married: Abby Rogers, June 1, 1897 Logansport, Ind.

Winfield studied law in his father's office at Logansport and was admitted to the Indiaia bar im 1896.

He has been practicing in Logansport ever since that time.

He promised to write a letter for the book if I would send him a duplicate for 'Blue Circular No. 10' - which I did at once, and about which I reminded him four of five tines.

For a while Winfield was the most bashful letter write in the class; but he has since been outclassed by that triumvirate of sphynxes, Foster, McNitt and Miller.


Maurice Jr: Death Certificate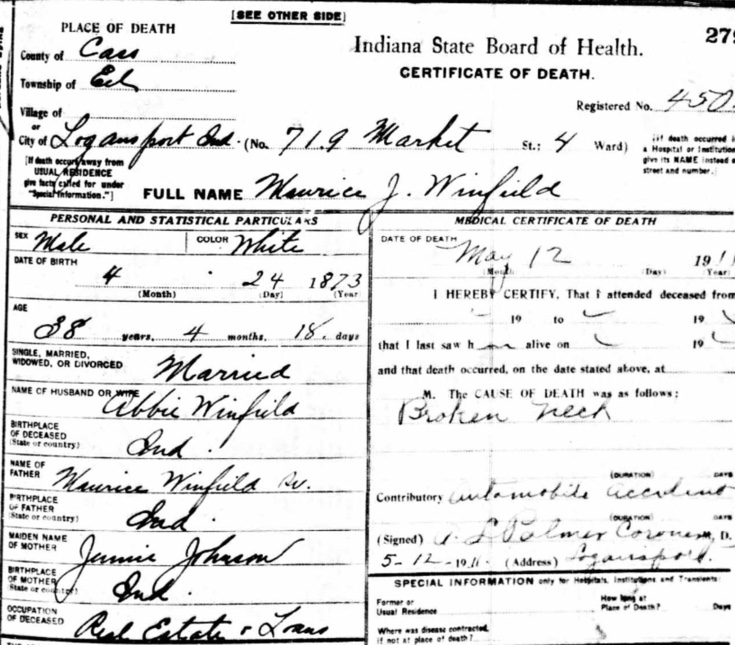 Death Certificate

Last change (on this page): 28 APR 2020