Charts
Lucinda Joann Lawrence B: 23 NOV 1953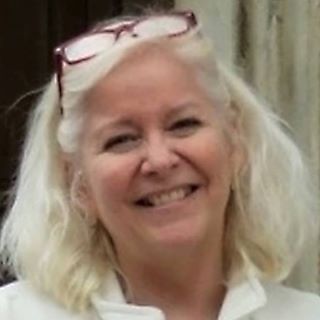 Lucinda was born on
23 NOV 1953
in
Mt. Pleasant, IA
.
She is the daughter of
Donald Robert Lawrence, Sr
(7 FEB 1916 - 10 NOV 2010)
and
Mary Emeline Young (Lawrence)
(24 MAY 1917 - 22 FEB 2011)
.
Lucinda was married to
Robert McDowell Hart
on
1988
in
Champaign, Ill
.
Robert was born on
27 FEB 1949
in
Chicago, Ill.
.
He is the son of
Norwood Albert Hart
(29 JUL 1920 - 27 FEB 2006)
and
Jean Young Lidster (Hart)
(B: 7 AUG 1922)
.
View Family Chart
-
-
-
Sources:
S1 Our Settler Trails: Lawrence & Young Family Stories 1620-1960
Lucinda:
Lucinda achieved degrees in music composition (University of Illinois, Urbana-Champaign in 1977 and 1979). She eventually retired from that same university (appointed first in Dance 1979 1988 as Music Director, then in Music 1989 2012).

She now focuses her volunteer and other work on community theatre and the mission pillars of the DAR promoting historic preservation, education, and patriotism.

Lucinda writes original musical theatre (composer/lyricist/playwright), directs, performs, and teaches in that genre.

Lucinda co-founded Community Theatre Illinois (supports development of theatre groups), and she currently serves as a member of the board and committees for the American Association of Community Theatre. It has been such a high privilege and true pleasure to collaborate with Jann in bringing her book to print. Lucinda s additional pursuits include partnering with Jann for genealogy research, and she likes discussing politics and investments with her hus- band, Robert Bob Hart (m. 1988).

$/box
Notes for Robert McDowell Hart
Univ. of Illinois.

Lucinda: Music
In 2009, Lucinda Lawrence was Asst. to the Dir. of Bands/Librarian at University of Illinois from 1995 until 2012, and Music Director from 1979-1988.

Lucinda has written original music for musical theatre, the concert stage, modern dance productions and broadcast video documentaries of them, and contest venues.

She has appeared as soloist on the major stages of Chicago and New York Orchestra Hall at Symphony Center and Carnegie Hall among others, and she has appeared as a vocalist and pianist on recordings.

She received an Illinois Arts Council grant award for her music composition while teaching on the faculty of the Dance Department at the University of Illinois.


Notes for Lucinda Joann Lawrence
Lucinda: Musicals
Lucinda composed original music, created arrangements of period and traditional music, and collaborated in writing the script and lyrics for '1787 the Musical' first performed in 2009 at Krannert Center for the Performing Arts, Urbana, Illinois.

And she created another musical, '1787: We the People' in 2011.


Lucinda: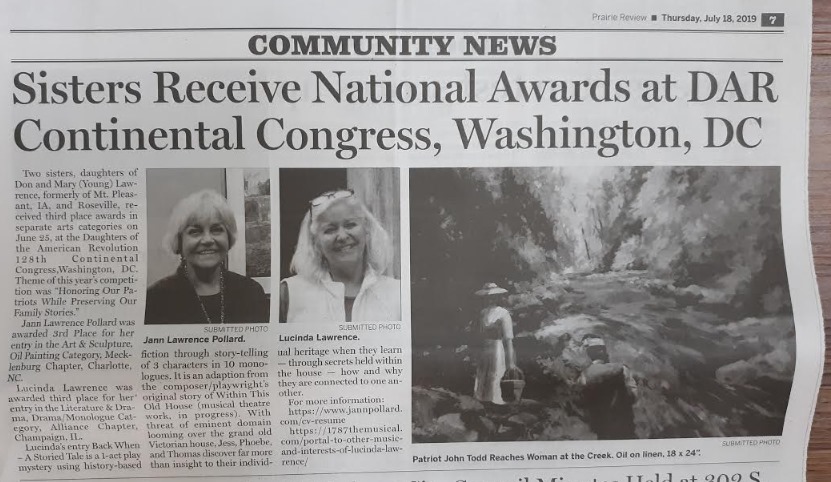 Last change (on this page): 5 OCT 2020