Charts
Allen Carroll Vaughn 26 FEB 1951 - JAN 2002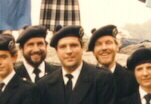 Allen was born on
26 FEB 1951
and died on
JAN 2002
.
He was the son of
Herbert Carroll Vaughn
(16 SEP 1923 - 25 SEP 2006)
and
Jean Lois Drake (Vaughn)
(1 JUL 1922 - 26 JAN 2008)
.
Allen was married to
Rebecca Shook (Vaughn)
on
22 MAR 1975
.
Rebecca was born on
31 DEC 1954
in
Birmingham, AL
.
View Family Chart
-
-
-
Allen: 'ALABAMA PIPES & DRUMS.'
Founded in 1994, the Birmingham Society of Piping has retained as its primary focus the development of artistic excellence. The leadership since that time has been Pipe Major Jamie Brooks-Hamilton, originally from the San Diago area, and Drum Sgt. Allen Vaughn (passed away in January 2002) who at one time played with the Atlanta Pipe Band.

Our band is proud to be a part of the resurgence of interest in Celtic culture. We place a high priority on educating the public about the deep roots of this culture and its vitality and relevance here at the dawn of the 21st century. This is of special importance given the influence of Scottish and Irish settlers in this area's history.

Currently under the leadership of Pipe Major Jim MacRae who recently moved to Birmingham from Chicago and Lead Drummer Kevin Barrett, the band is in a growth mode. Plans are underway to make a trip to Scotland in the near future.

We wear the tartan of Ancient MacDougal.


Notes for Rebecca Shook (Vaughn)
- sent an email with family facts in Oct 2005.


Last change (on this page): 15 OCT 2018