Charts
Ann Haertel Morton (Clark) 13 MAR 1925 - 30 OCT 2013
Ann was born on
13 MAR 1925
in
Evanston, Illinois
and died on
30 OCT 2013
(age: 88) in
Ft. Lauderdale, Florida
.
She was the daughter of
Alexander Robert "Beef" Morton
(B: 7 JUN 1887)
and
Marie Haertel (Morton)
(B: 4 FEB 1889)
.
Ann was married to
Ralph Thomas Clark
.
Ralph was born on
22 JUL 1923
in
Chicago, Cook Co., Il
and died on
6 OCT 2001
(age: 78) in
Berkley Springs, W VA.
and was buried in
Prarie Home Cemetary, Waukesha, Wi
.
He was the son of
Ralph Chester Clark
and
Nellie Darling Jones (Clark)
.
View Family Chart
-
-
-
Ann: Added to Carrol College Faculty
Added to Carrol College Faculty (Waukesha Daily Freeman - 23 May 1949)
Ralph: Obituary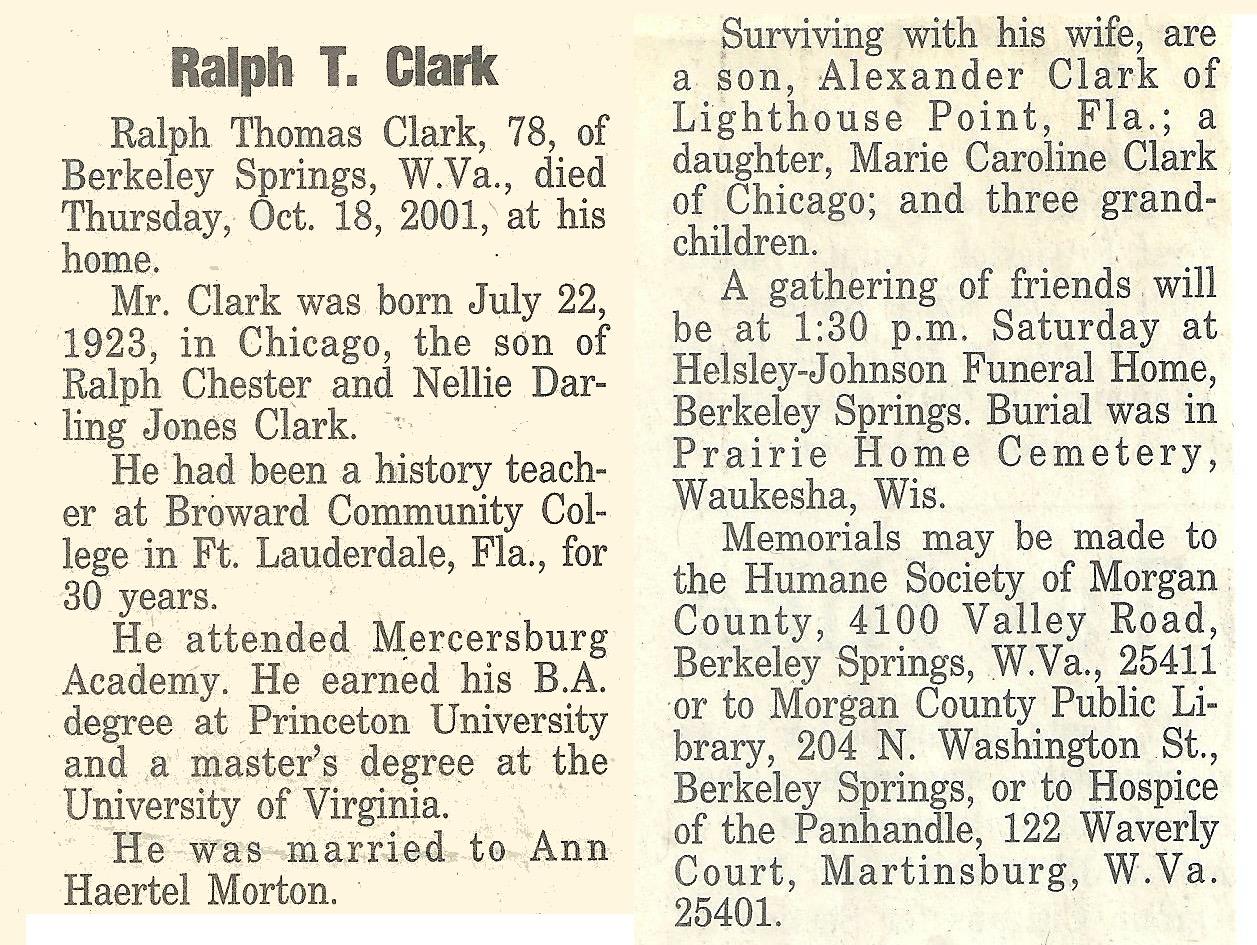 Obituary
Ann: Wedding Announcement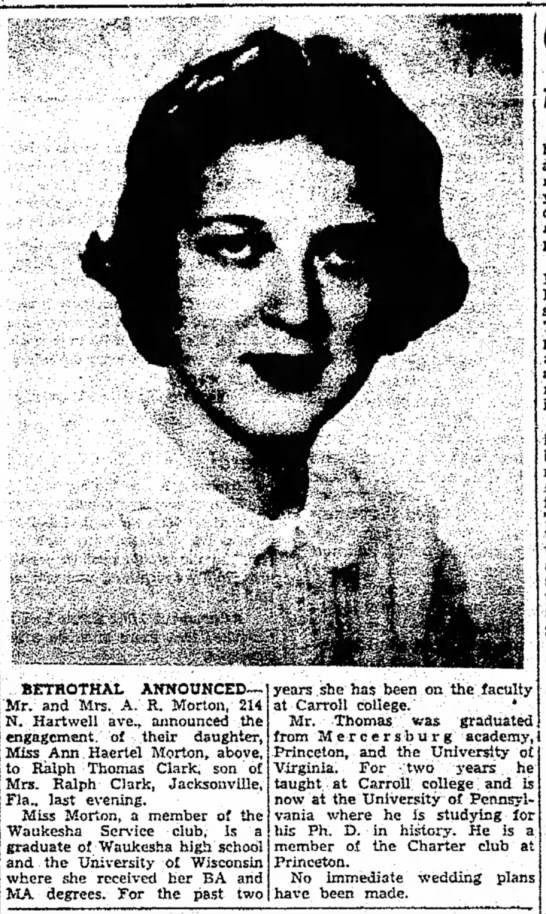 Wedding Announcement
Ann:
Ann and Ralph lived in Ft. Lauderdale, retired to one of the Carolinas, and after Ralph died and Ann was failing, her daughter, Carrie (Caroline) moved her to a nursing home in Chicago where Carrie lived and I was able to visit her. I was very fond of Ann. She passed away a few years ago? ( not sure). Alex, her son, is deceased. Ann's mother, Marie, was a good friend of my father, Garver Wheeler. They would sit around and drink and smoke and talk their heads off.

(From email from Margaret Wheeler April 2020)
Notes for Ann Haertel Morton (Clark)
Ann: Obituary
Ann Haertel Morton Clark, born March 13, 1925, passed away on October 30, 2013. She was predeceased by her husband of fifty years, Ralph Thomas Clark, in 2001.

Born in Evanston, Illinois, and raised in Waukesha, Wisconsin, Ann obtained her M.A. from the University of Wisconsin-Madison and was extremely proud of her membership in the American Association of University Women.

She met her husband while both were teaching at Carroll College in Waukesha and, after a splendid courtship, they wed in 1952. They moved to Chicago's North Shore, and where their two children, Alexander and Marie Caroline (Carrie), were born in 1955 and 1960, respectively.

Upon moving to Fort Lauderdale in 1960, Ann became a stay-at-home mom while Ralph taught history for 30 years at Broward College. She was active in the Friends of the Library and worked part-time at the Galleria's Jordan Marsh. Her station was a popular meeting point for friends.

The Clarks retired to Berkeley Springs, West Virginia in 1988. After her husband passed, she spent her last years in Chicago near her beloved daughter, Carrie. Ann was composure and grace personified and made everyone she met feel supremely important and worthwhile.

Ann radiated a serenity that was almost tangible and was intellectually formidable in an understated and quietly confident way.

She was a true joy to be with and a wonderful listener. She spent her last years in Florida and finally in Chicago, where she passed peacefully. She is survived by her daughter Carrie Clark and her husband Jay Sebastian, her son Alex Clark and his wife Susan York Clark, and her grandchildren, Sean and Christopher Clark, her granddaughter, Sara Caroline Clark, and her niece, Margaret Wheeler of Indianapolis.



Last change (on this page): 24 SEP 2020